FIS, leading freight and bulk commodity broker and pioneer of the iron ore futures market, drives forward battery metal derivative trading to prepare for the green energy future.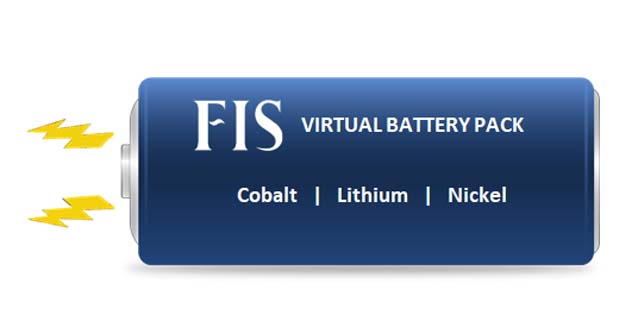 The growth in renewable energy and industries such as electric vehicles has driven demand for raw materials required for batteries in order to cater for the growing need to store energy.  
One industry undergoing radical transformation, is the automotive industry. The Electric Vehicle Market is expected to grow from 3.1 million EVs in 2020 to 17 million by 2025.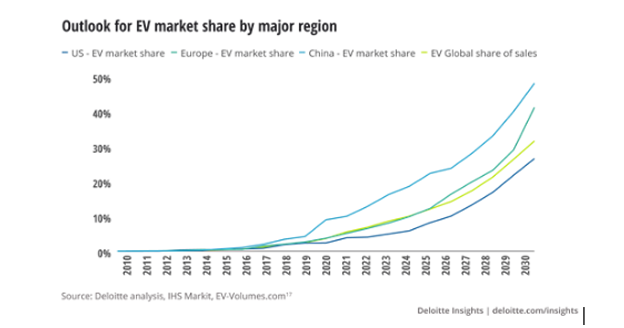 This huge growth in electric vehicles and need for battery storage is going to put pressure on metal miners to produce enough to be able to cater for the explosion in demand for battery raw materials. 
John Banaszkiewicz, CEO of FIS: 
"At FIS we are fully supportive of efforts to decarbonise the world economy and have therefore identified these keys markets that are needed in order to help make carbon pledges a reality. 
The growth in the EV and demand for batteries has been incredible, and with companies like Tesla growing rapidly and pushing forward the electric revolution, commodity markets must keep pace and cater for this new demand.  
In 2012 we developed the 'Virtual Steel Mill' – combining futures pricing on iron ore, coking coal, steel and scrap to give clients a holistic trading view across the ferrous complex – and we are now looking to bring the same success to battery metals.  
We hope that our virtual battery pack service in offering futures trading and hedging on the key battery metals (cobalt, lithium and nickel) can help companies manage volatility in a period of dramatic and fast paced change."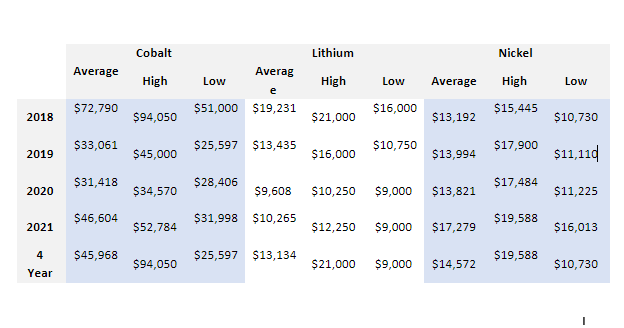 Price Volatility  
Prices for the battery metals cobalt, lithium and nickel over the past four years have shown high levels of volatility. Cobalt has moved from a low of $25,597/mt to a high of $94,050/mt; lithium from a low of $9,000/mt to a high of $21,000/mt, and nickel from a low of $10,730 to a high of $19,588. 
Recently lithium has also experienced increased price volatility. This comes in advance of CME launching their cash-settled Lithium Hydroxide contract on May 3rd. This will settle against Fast Markets weekly index, and FIS are working closely with both Fastmarkets and the CME to successfully launch the contract and aid liquidity.  
The International Energy Agency has also recently warned that high mineral prices due to the increase in demand will hamper efforts to transition to clean energy. They report that lithium demand is set to rise 40 times the current rate, and with the average mining project needing 16 years to progress from discovery to first production, any upscaling in production will be slow and costly.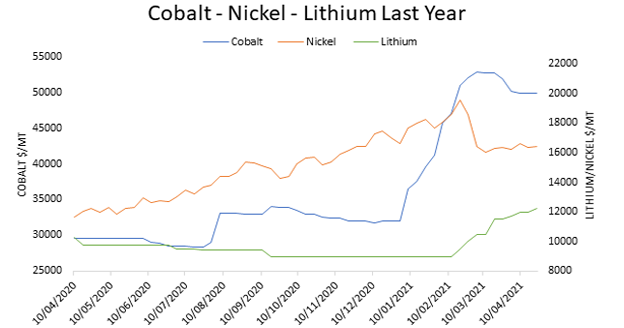 Cobalt especially has experienced wild volatility in price and remains a key component for battery production. Cobalt's total physical production is approximately 130,000t pa (cobalt metal equivalent), 70% of which is mined in the Democratic Republic of the Congo (DRC). With around 50% of the world's cobalt reserves are the DRC, followed by 20% in Australia, increasing demand for the metal, combined with geopolitical uncertainty in areas of availability has made cobalt historically extremely volatile.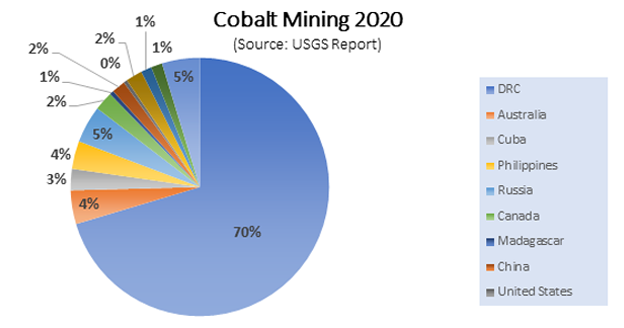 It is predicted that the growth region for the production of lithium ion batteries (LIB) will be in Europe, but the large majority will still be produced in China by 2025. According to a Fitch Solutions report, Europe accounts for some 43% of global investment in battery manufacturing projects.