FIS to launch FFE (Freight, Fuel, Emissions) and new Copenhagen office to help clients 'go green'
Freight Investor Services (FIS), the leading freight and bulk commodity broker, is set to open a European office in Copenhagen as its focal point to help freight and commodity clients manage their commodity and carbon emissions risk.
FIS is pleased to announce the launch of a dedicated carbon emissions desk as it looks towards a green future to help clients transition towards a low carbon economy.
John Banaszkiewicz, CEO of FIS:
"With a global market of around 35 billion tonnes of carbon, Europe is looking to lead the way in emissions reductions with a target of reducing CO2 by 55% from 1990 levels by 2030.
From FFAs (Forward Freight Agreements) to FFEs (Freight, Fuel, Emissions), we can offer clients information and contracts for compulsory and voluntary carbon credits on top of our broad range of freight and commodity contracts.
Maritime is an industry under focus as it looks set to be added into the EU ETS. Globally the shipping industry emits just over 1 billion tonnes of carbon a year, or around 3% of total world emissions.
We want to be there for our clients to help prepare for this transition and therefore have invested in an EU office based in Copenhagen and being able to offer FFEs."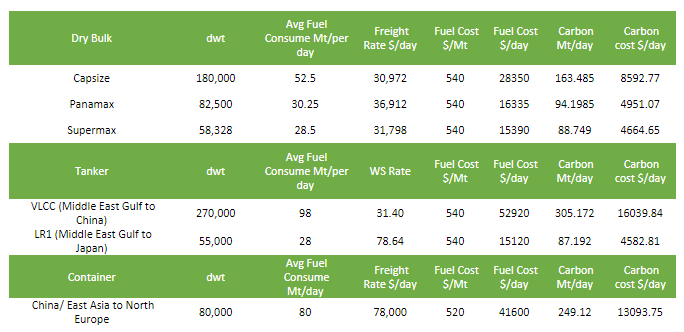 New carbon emissions legislation is set to impact shipping within the European Union as the EUA scheme is expected to be extended to the industry from January 2023. European shipping will be required to partake in the European emission trading scheme and have to purchase allowances for emission over a certain allocated threshold. It is also expected that this scheme will also apply to extra-EU shipping that calls at a European port.
The outlined plan shows a 3-year implementation period in which an increasing percentage of the expected carbon emissions having to be covering using the trading scheme. From 2026 full compliance is expected to be implemented, with maritime adding itself to the list of covered industries inside the trading bloc's waters.
The price for carbon has been increasing significantly since the start of 2020. From the start of 2020 EUR 24.58 to a high of nearly EUR 58 in July 2021 – a 135% increase.
Our experts on our carbon emissions desk have put together a shipping emissions white paper to help clients explore their risks and how to prepare themselves for these regulatory and environmental changes.
FIS is committed to playing its part in the green transition, providing expert and up to date information on the fast-changing landscape of carbon emissions and how they can be used alongside traditional contracts to protect against risks.
Contact
Chris Hudson | Communications Director | (+44) 7738697750 | News@freightinvestor.com